Hydrafacial is a non-invasive, completely pain-free facial treatment that works for all skin types. There are a lot of benefits associated with a good hydrafacial treatment. In this blog, we have listed a few that will help you make your decision of opting for this treatment.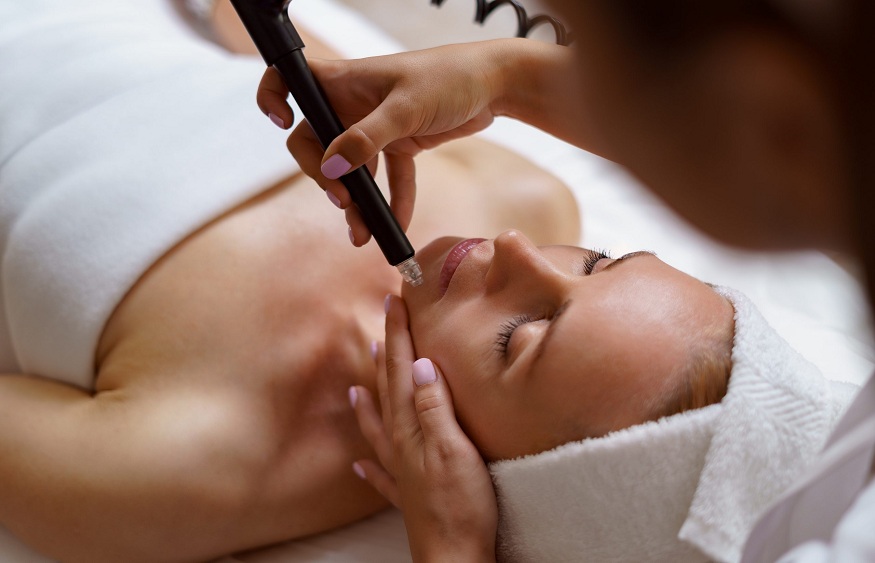 1. Personalised treatment plan
Everyone has different skin and so are their skincare routines. Just like you cannot use just any foundation as it will not match your skin tone, one should not blindly follow a skin care treatment that works for others. At makeO skinnsi, we understand the uniqueness of your skin, and its needs and, therefore, curate a personalised hydrafacial treatment for everyone.
Our experts will come to your home and perform a detailed skin assessment to understand exactly what your skin needs. Only after a thorough examination of your skin, our dermatologists will curate a personalised dermafacial treatment plan for you. If you think that hydrafacial is only meant for people with dry and combination skin types, you are mistaken. Every type of skin needs moisturization and oily skin is no different. Hydrafacial can extract all the excess oil from the skin, making it a beneficial treatment for even oily skin types.
2. Deep cleansing the skin
Let's face it, we all miss out on daily facial cleansing every now and then. While it may feel like a trivial thing to worry about, it can actually make a lot of difference to the quality of your skin. Day of buildup, pollution, dirt, excess sebum, and other impurities, if not cleaned from your skin can clog your pores and result in acne. Deep cleansing of your skin is the only way to remove the dirt build-up on your face. A hydrafacial will thoroughly cleanse your skin, making it refreshed and squeaky clean.
3. Unclogged pores
The tools used to perform a dermafacial treatment are vacuum-based. It works by sucking the dirt out of your pores. Let us first begin by telling you that it is a completely pain-free experience. You won't feel anything more than a gentle tingling sensation on your face during the treatment. Our hydrafacial treatment will unclog all your pores, even tricky areas like the corners of the nose and chin. You will be left with smooth, exfoliated skin that feels baby-soft.
4. Treating mild acne
When your skin is clean and the pores are unclogged, your skin will be able to finally breathe in the fresh air. Since the treatment involves a chemical-based exfoliation step that gently exfoliates a layer of dead skin cells from your skin, you will experience fewer breakouts on your face. All the acne-causing germs, bacteria, and dirt will be sucked and washed away from your skin preventing further acne flares.
5. Better skin tone and texture
Doesn't your skin feel baby-soft every time you exfoliate it? It is because the layer of dead skin cells that may be building up on your face is peeled and there is a rejuvenation of new and healthy cells. After hydrafacial treatment from makeO skinnsi, you will experience soft, smooth, even-toned, and glowing skin that looks picture-perfect even without any makeup. The deep hydration step of the treatment plan will provide your skin with much-needed hydration. It will give you a glass-skin effect that everyone wishes to flaunt on their special days.
What's more at makeO skinnsi?
makeO skinnsi is a personalised and innovative skincare brand that aims to bring innovation and convenience into your skincare regimen. We provide personalised facial treatments for your special days as well. If you are a bride-to-be and want to flaunt your best skin on your best day, you can try the bridal special facial and body polishing treatment. Depending on your needs, you can opt for other specialised facials like oil control and anti-aging. The best part about our services is that you do not even have to step out of the house. Our experts will come to your home and perform their treatments on you under expert supervision. So you can relax and pamper yourself with the love and care you deserve from the comfort of your home.